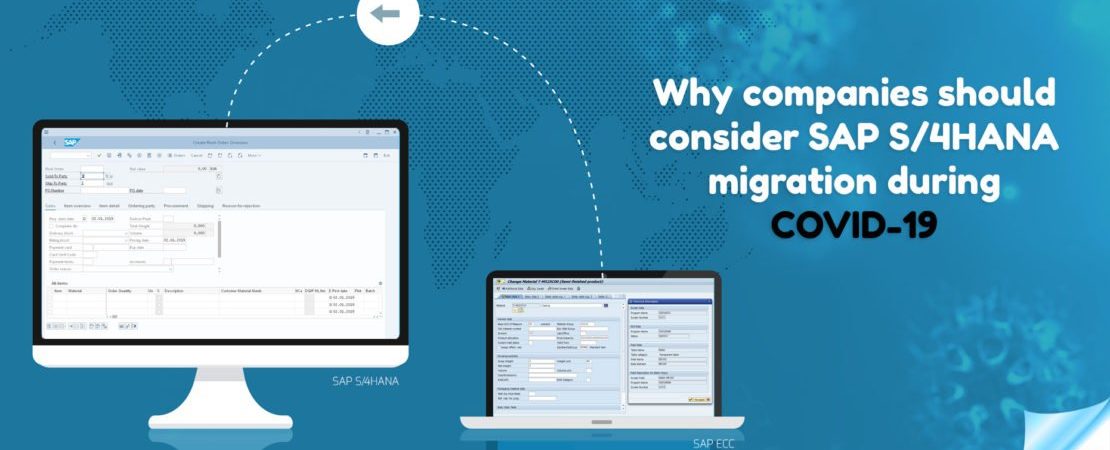 SAP S/4HANA migration is a significant and important part of a business's roadmap. As it drives digital transformation, opening up opportunities to optimize business processes by adopting new technologies.
Successful migrations require careful advance planning and consideration of an appropriate migration strategy. With COVID-19, companies can utilise this time to strategize and prepare for the migration. It can take months to years to complete the migration process, and leveraging the time we have is best recommended. As SAP will end its mainstream support and maintenance for the core SAP ERP system by 2027.
Due to this, many SAP customers were already at various stages of evaluating, planning or implementing SAP ECC migration to S/4HANA. Prior to the global business disturbance caused by COVID-19. Even though COVID is a setback but it is also an opportunity. Migration to S/4HANA is best done now as there is plenty of time to strategize the process and the availability of SAP experts. As it will start to scale down as the deadline approaches with every company moving to S/4HANA. As any ERP is a three layer architecture, and stopping the production inorder to implement the migration is nearly impossible during business time. With COVID-19 affecting the market demand, it might be a good time to pause your production when the business is not at its peak, and use the time for SAP S/4HANA implementation.
A proper migration strategy planned by a well-known SAP partner like LMTEQ would assure your journey to S/4HANA be smooth by eliminating risks during the transition. Implement the best strategy that fits your business's roadmap without data inconsistency and integrity issues.
Why now is the time for SAP S/4HANA migration
Implementation with limited workforce
The COVID 19 pandemic has proved that there should be less reliance on human resources as the workforce can come to a drop at times like this. SAP S/4HANA migration during this time gives an opportunity for SAP customers to reduce the downtime during the level of customization and complexity during the migration as required.
Endless Capabilities
The focus on enhancing digital capabilities, particularly automation. Data analytics and management will most likely be trending in a post COVID-19 world. The importance of up-to-the-minute enterprise data and analysis is an important part of management systems. S/4HANA offers quick learning and analysis to enable better performance and simplified user experience.
Scarcity of SAP Resources
The shortage of qualified SAP resources may become even more acute, which significantly drives up costs for SAP ECC migration to S/4HANA. As the 2027 deadline approaches. The demand for SAP experts will peak within a short period of time. Leaving behind very few consultants to the rescue.
Financial Concerns
The capital investment in data migration to S/4HANA is significant. This cost is mitigated to some extent, however, by the following:
S4/HANA Readiness check and adopting a test implementation that reduces the level of customization and complexity of the ERP solution should reduce migration cost.
Using SAP S/4HANA cloud data migration which has the potential to reduce operating expenses and convert fixed costs of on-premise solutions to variable cloud pricing based on actual resource utilization.
The advanced digital capabilities of S/4HANA may enable companies to achieve greater efficiencies and monetize their data.
SAP offers credits for converting existing investments in legacy licenses to S/4HANA.
SAP S/4HANA migration removes the future risk of unanticipated costs and liability associated with "indirect access" to SAP ERP software. As named user licenses are not required for S/4HANA.
Are you considering SAP S/4HANA implementation for your business?
If SAP ECC migration to S/4HANA is in your cards right now, go for it. Strategizing your migration is crucial before you take the big step. LMTEQ offers SAP S/4HANA implementation and support services that transform your enterprise to the in-memory business suite, at your pace, minimum budget and eliminated risks.
LMTEQ will work with you right from the moment you decide to migrate. Till the time we offer support and maintenance. Gain the services that you will need throughout your S/4HANA journey.
Assessing your system's potential for S/4HANA is the key for a successful migration. Before you perform data migration to S/4HANA, ensure that the ECC system is compliant for the transition.
LMTEQ will provide a detailed analysis of the gaps in your existing system if any, that should be worked upon for the migration.
Unlike SAP ECC where customer/vendor is the leading master data object, SAP Business Partner (BP) is the leading master data object for S/4HANA. Therefore, converting customer/vendor master data to BP master data is a mandatory requirement for implementing the migration. LMTEQ offers CVI synchronization service, gearing you up for the in-memory business suite.
Once you have checked your system's compatibility for S/4HANA and converted the master data object to Business Partner, there is no stopping. LMTEQ performs the migration following best practices and finds your personal path to S/4HANA that fits your business roadmap.
Maximizing your S/4HANA value is the end goal. LMTEQ's support for S/4HANA focuses on having your mission critical operations unaffected at any cost. We provide advisory services for strategic planning and optimizing business operations, reducing the restraint for a smooth S/4HANA system operation.
Request a Callback
Would you like to reach to one of our
SAP & Salesforce Expert.
Just submit your contact details and we'll be in touch shortly.
You can also email us if you would prefer
[email protected]