Salesforce Lightning vs Classic
What is the difference between Salesforce Lightning experience and Salesforce Classic? What are the feature changes? Which one is better? These questions are all over the place in the Salesforce community. Are you also looking for Salesforce Lightning vs Classic? Let's put these questions behind once and for all. Let us start by looking at the key differences between the two.
Salesforce Classic as the name suggests is the classic version of Salesforce CRM. With its outdated look, people are looking to upgrade to Salesforce Lightning Experience which is faster. Also, it focuses on displaying data in a more appealing way than through plain text and numbers. This makes it user-friendly. Apart from the interface, Salesforce Lightning is a framework that allows developers to create Salesforce apps.
Salesforce Lightning Experience
Clean and modern design: Salesforce Lightning owns a neat design that is visually engaging for the users. This enables them to work in a more efficient manner.
Also, pre-existing mobile features are now available on desktops too.
Updated Home Page: The home page is customizable.  It displays significant information at first for users to be more productive without wasting time looking for data.
Salesforce Lightning also comes with options like news, key deals, and a performance chart on the homepage.
Smart Views: Information is displayed dynamically focusing on the most critical data first.
Sales Path: Lightning sales path is a visual representation of the sales process. It highlights key fields and steps in the process.
Salesforce Einstein: An AI that uses data behavior to predict possible outcomes. It recommends the next steps and also automates tasks.
Opportunity Kanban: A visual representation of every stage for all the open opportunities. The reps can review deals at each stage in the pipeline. They can also move deals from one stage to another using drag and drop. Above all, get personalized alerts when key deals are in progress.
Better Dashboards: Salesforce Lightning Dashboards are not restricted to three columns. Data visibility enhancements are made to ensure data-driven decisions are taken with ease. Users can now view open/closed sales deals.
Activity Timeline: Users can keep track of their history of activities. Also, updates are saved without refreshing the page.
Report Creation: Sales reps can now create presentable charts. They can also filter the same.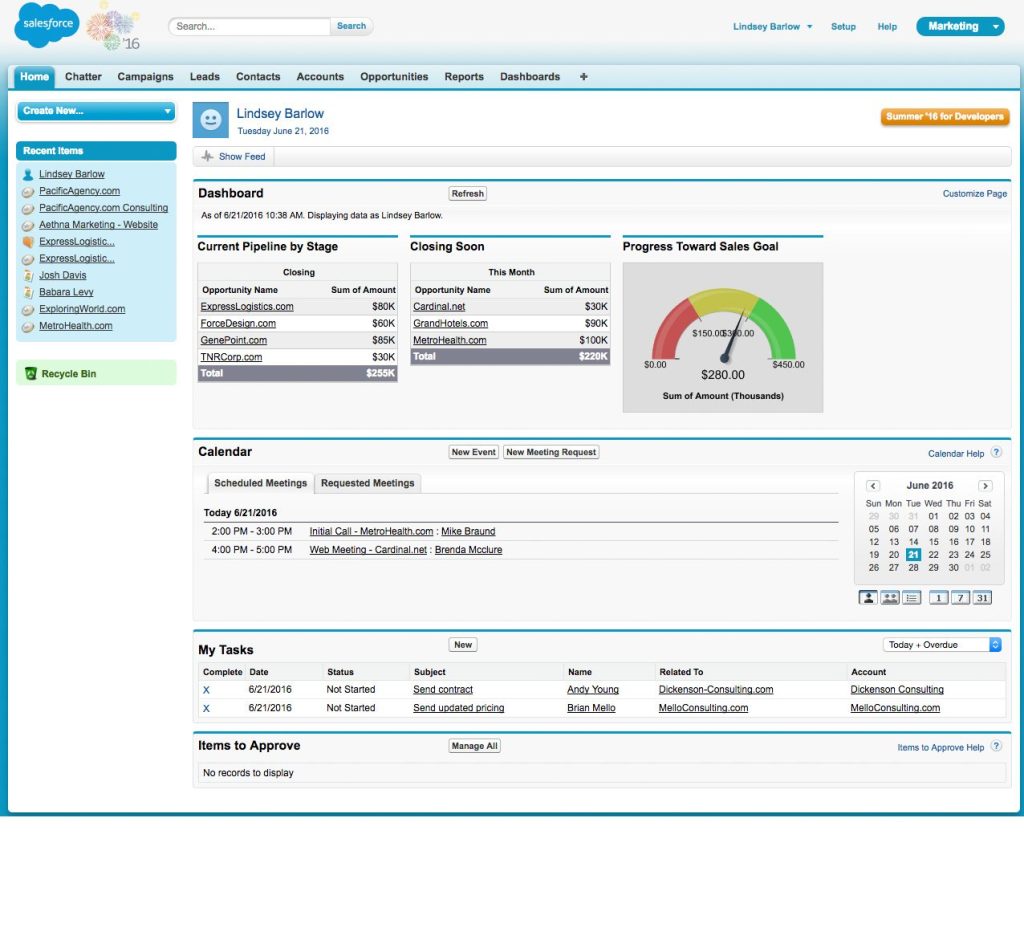 Landing page components
Also, support of account teams, account and contact hierarchy, and personal account.
Further, addition of leads, contacts, or personal accounts to campaigns from reports.
Salesforce Territory management and inline editing of fields (lists, records)
Options for resizable columns or advanced filter logic.
Moreover, combines accounts, contacts, or leads.
Flexibility to have Joined Reports, Matrix Reports, Tables Funnel, Scatter chart types, and setting up report refreshes.
Above all, integrates with applications from AppExchange.