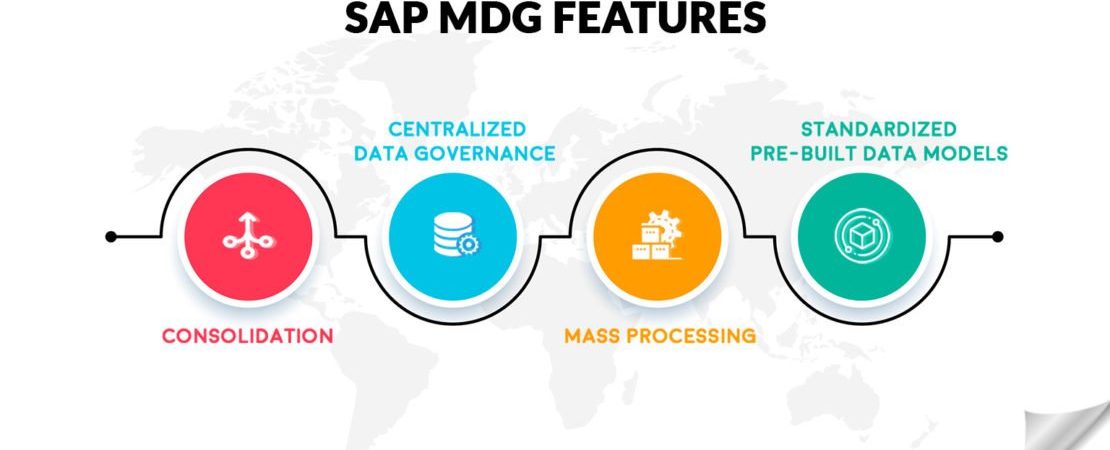 SAP's Master Data Governance (MDG), is an extension of the business processes in the SAP business suite, to centrally govern master data. In other words, it is a master data management solution to centrally govern and consolidate business data of an enterprise. This blog will address SAP MDG features and benefits.
The SAP MDG Advantage
SAP Master Data Governance (MDG), provides an integrated data management tool to maintain, validate and distribute master data. Not only is it highly compatible with the ERP system, but is also enhanced with recent innovations for SAP S/4HANA. This integration facilitates the reuse of available SAP functionalities and data structure, ensuring lesser maintenance and a huge improvement in the quality of master data.
An automated, rule-based workflow reduces effort and cost in the consolidation and harmonization of master data across a heterogeneous system landscape. Also, adherence to checks in the ERP systems enables observance of compliance requirements. Above all, SAP MDG stands out in its transparency on how master data influences business processes.
Hence, SAP MDG benefits are huge in terms of improved data quality, enhancement of business processes, reduced effort through process optimization and minimization of risks through data consistency.
SAP MDG Features
The key SAP Master Data Governance (MDG) features are:
1. Consolidation Of Master Data
This SAP MDG feature involves creation of best records with key mapping between duplicates and consolidation with central management for high quality master data. This functionality is available for customer data, materials data and supplier data.
New integrations enable a switching of data across supplier and performance management solutions, SAP S/4HANA and hybrid e-commerce solutions. This is done by supporting customers to manage data across both on-premise and hybrid cloud processes in a better way.
In short, SAP MDG's master data consolidation framework enables businesses to dentify, match and merge records to create the best record.
2. Centralized Data Governance
This SAP MDG feature provides a centralized business process that helps in the management of master data. Consolidating and centrally governing data helps in reducing overall costs.
It also helps in ensuring consistency and data quality. With centralized data management and governance, a "maintain once, use everywhere" SAP MDG best practice can be put in place.
A single source of information is established. Hence, change only needs to be made on one set of data and not on multiple applications. This, in turn, helps improve data consistency and accuracy and ensures delivery of the most recent updated information.
3. Mass Processing
Multiple master data records can be updated at the same time. Hence, it is a highly effective mass change process. Bulk changes can be made to business partner, customer, supplier and material data. 
To update records, we select rows that we want to change. The system would then display a list of fields to update. Once we make the changes, the system provides statistics on the updated fields.
Data is also validated. We can then check the validated data before activating it. Activation copies the data to memory. System can now use this data in business transactions.
Templates can be prepared for frequent change scenarios as part of this SAP MDG Feature. These templates can then be used without having to understand field and table structures in detail.
4. Standardized Pre-built Data Models, Workflows And User Interfaces
SAP MDG provides standard pre-built data models, user interfaces, rules and workflow definitions for financial master data, business partner, material master data, customers and suppliers.  They can be enhanced further according to business requirements.
The workflow can be enhanced easily, allowing many people to add their expertise to the master data. The workflows have steps for the endorsement of the modified data. Until data is endorsed, it is in the staging area. This area is different from the one that has the master data. Once endorsed, data then goes to the master data tables. After the data is merged with the master data, it is distributed to the entire system. This way, MDG provides consistent authorization, definition and duplication of data.
MDG facilitates an audit trail by tracking all the approvals and changes made to master data. 
Request a Callback
Would you like to reach to one of our
SAP & Salesforce Expert.
Just submit your contact details and we'll be in touch shortly.
You can also email us if you would prefer
[email protected]