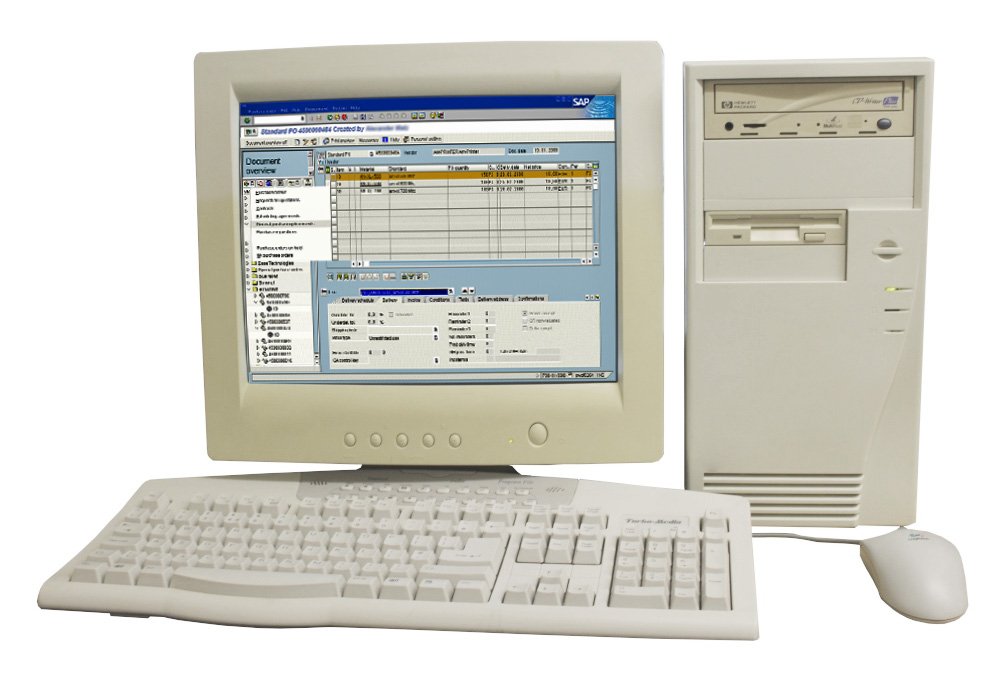 Before we get into what SAP Fiori is, let us revisit the SAP GUI interface. Most of us remember or even still use the SAP GUI interface. It came from an earlier era of computing when it was a breakthrough in technology.

It was a refreshing change from the green screens and the likes. But it was not user-friendly and was hard to use. Moreover, it was not mobile. Hence, It confined the users to a specific desktop or a laptop.
Subsequently, a need for a simple, intuitive, coherent UI design that would be responsive and role based came into being.
According to SAP experts, the primary motivation for creating SAP Fiori is to handle SAP systems in an easier manner. Fiori has been evolving since 2013 as a small set of 25 applications for tablets and phones.
It is now a more unified design having scalable content along with machine learning techniques implemented.

Let us now look at the question, "what is SAP Fiori "?
Is it the new user interface? Or is it more than that?
In trying to answer, "What is SAP Fiori ?", we can say that it is the new user experience for SAP. It is a set of design guidelines of how an SAP application is supposed to look and feel. The aim of SAP Fiori is a consistent user interface. These applications are accessed in a simple and easy manner across desktops, tablets and smartphones.
In other words, these apps are a set of cross device applications. They allow a user to start a process on his desktop and continue it on a tablet or a smartphone. Mobility has gained a lot of business value with handheld devices reforming information exchange in trade. SAP's pitch for mobility is through Fiori.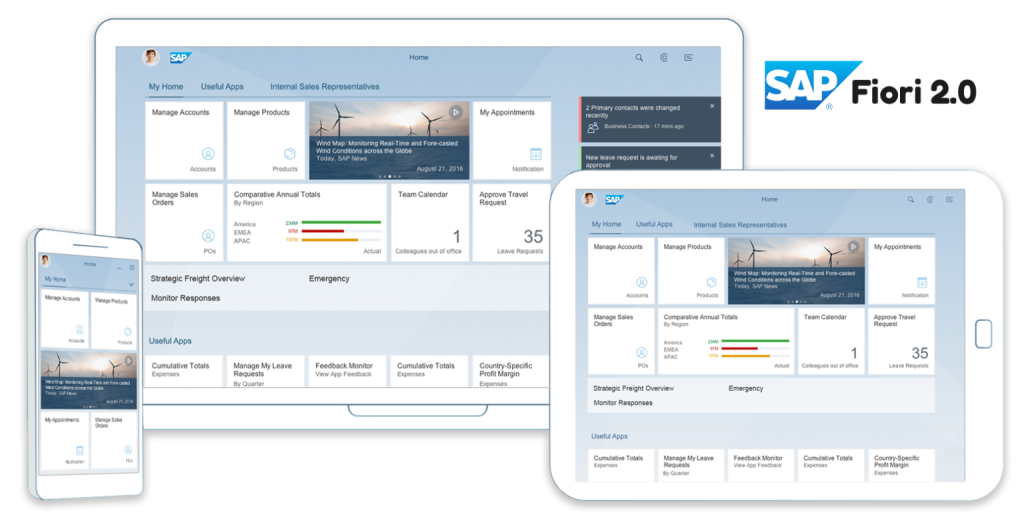 The immediately apparent benefits of SAP Fiori are many. An increase in productivity, a more intuitive workflow, improved mobility, workforce flexibility and an increase in worker morale.
If we were to list the benefits of SAP Fiori, they would be:
Users can access data anytime, anywhere and common tasks are organized in a streamlined and intuitive workflow.
Reduction in End User Errors
Workflow is more intuitive and is structured around business logic and not SAP logic. This, subsequently, reduces end user errors.
Fiori's standardized interface makes it easy for users to understand the different apps under Fiori's umbrella. As a result, this enables workforce flexibility in shifting workers to different positions to harness their skills and capabilities better
Consistent UI behavior and design provide users the same experience across devices. Therefore, mobile workers can stay efficient while on the road.
Fiori is designed to make work less tedious and reduce frustration, thereby increasing the morale of a worker.
As it is evolving, customers are no longer finding the need to constantly create their own tools.
Hence, there is a much lesser need for development. That is another one of the benefits of SAP Fiori.
We have understood what Fiori is and it's benefits. let's now try to understand how to use SAP Fiori.
SAP Fiori gives us a group of applications that are used in regular business functions. Like, work approvals, financial apps and a wide range of self service apps. There are more than 300 role based applications like HR, Manufactoring, Finance etc. SAP has developed these apps on SAP UI5 (the technology to build these web applications).
Above all, these apps are classified into three types.
Transactional apps
Analytical apps
Fact sheets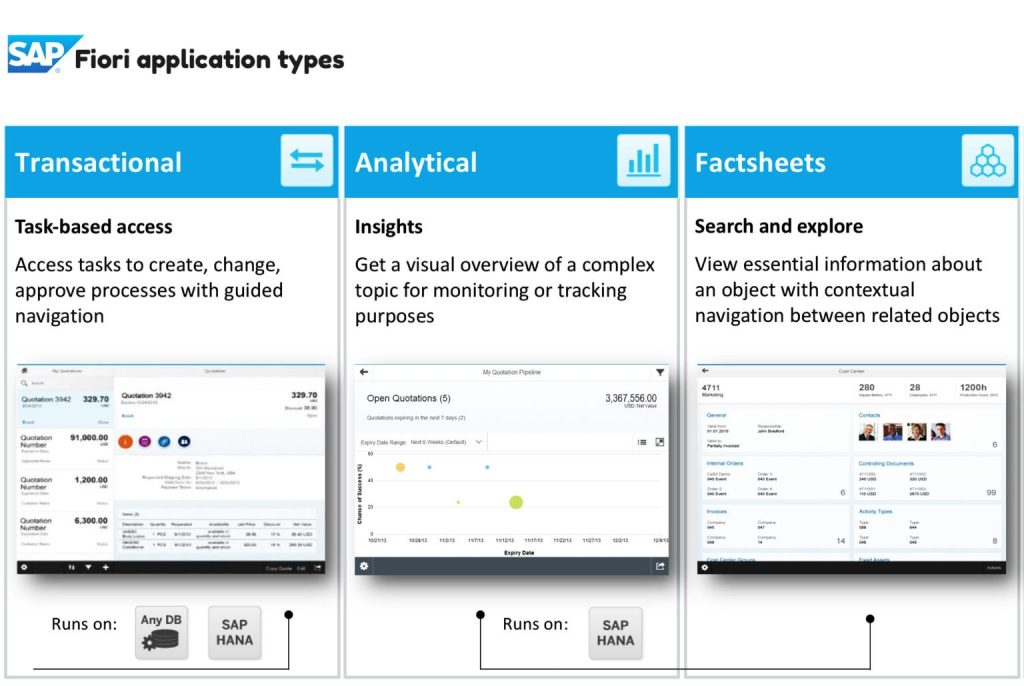 Some examples of transactional apps include worker leave request, travel request or a purchase order. They run best on SAP HANA database. They can also be run on any other database with acceptable performance.
Analytical apps are wont to provide role based real time information about business operations. This enables complex aggregation and calculation on real time data, as per the changes in the market. These apps run on SAP HANA database.
Fact sheets are used to drill key information and contextual information in business operations. For instance, let us take a fact sheet app with the center object having details about vendor contract. One can drill down "vendor contract" to obtain more information such as contract terms, item details etc. Fact sheets run only on SAP HANA database. They also require an ABAP stack.
Conclusion – Fiori meaning in SAP
In conclusion, Fiori meaning in SAP, is an enhanced user experience. An UX that is role based, responsive, simple, delightful and smooth. After all, Fiori in Italian means "flowers"; blooming and beautiful.
At LMTEQ, we help you in activating and deploying these apps through RDS methology within 2 weeks.