Get your IT business management under control with ServiceNow ITBM
ServiceNow IT Business Management offers IT organizations a suite of comprehensive solutions for optimizing operations, increasing productivity, and increasing customer satisfaction. These tools can assist firms in staying ahead of quickly changing technological trends and achieving success.
Explore the key features of ServiceNow IT Business Management: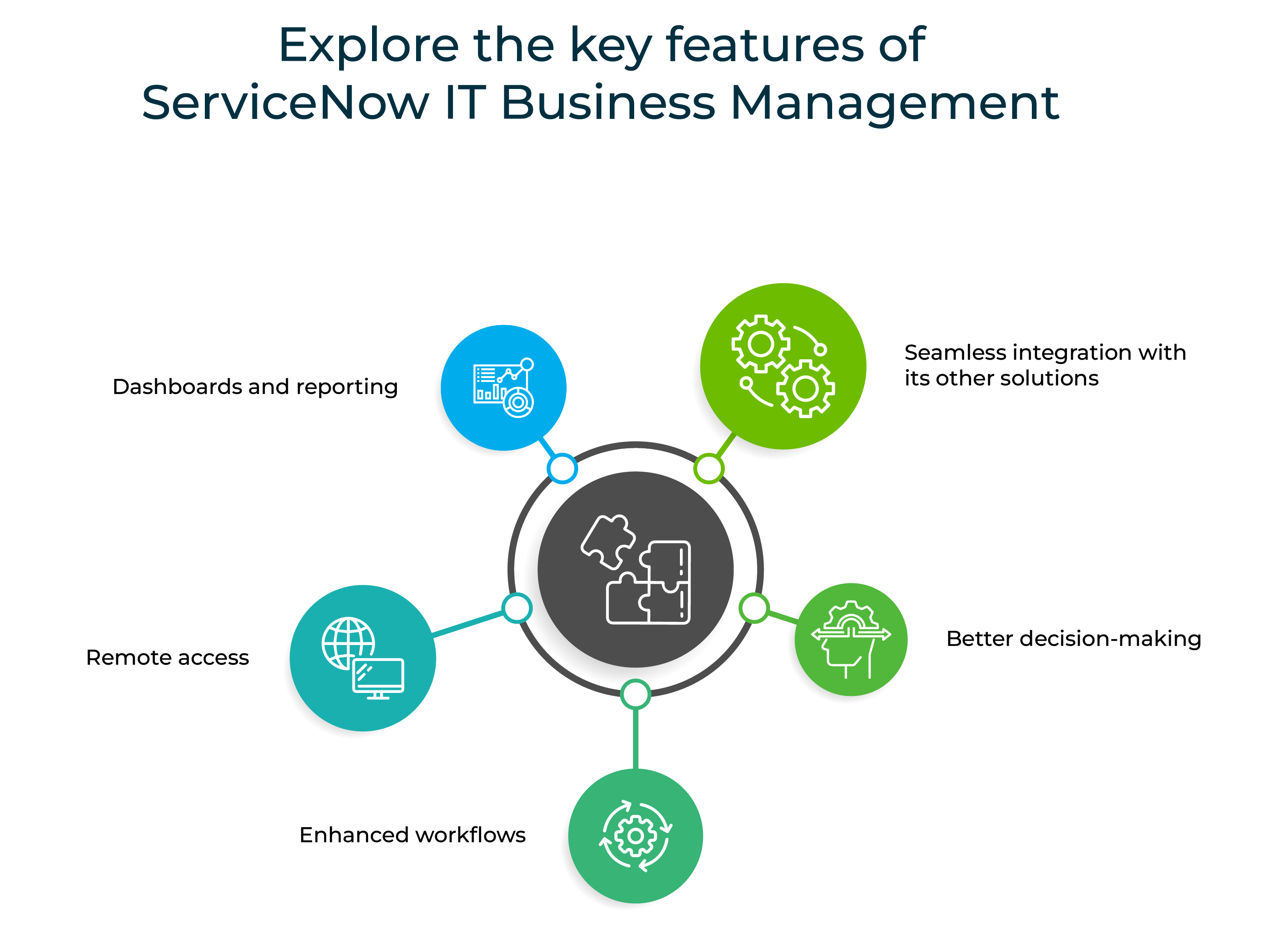 ServiceNow ITBM makes it smoother than ever to manage IT services, projects, and finances with:
Seamless integration with its other solutions:

 

ServiceNow ITBM

works in unison with all other ServiceNow capabilities, including HR, ITSM, and ITOM.

Dashboards and reporting:

 ServiceNow offer various customizable dashboards and reports that can keep track of your IT operations and guide wise choices.

Remote access:

 You can use the ITBM tools anytime, anywhere, using the ServiceNow mobile application.

Enhanced workflows:

 

ServiceNow ITBM

assists you in automating IT workflows, which lowers the demand for manual intervention.

Better decision-making:

 Thanks to

ServiceNow ITBM

's real-time insight into the IT operations, which lets you base your choices on correct information.
How LMTEQ can help you unleash the power of ServiceNow ITBM?
ServiceNow IT Business Management is a complete set of solutions that helps businesses optimize their IT operations, increase efficiency, and meet their business objectives. LMTEQ offers you comprehensive expert support throughout every phase of your business management journey. We help you integrate your business goals with your IT strategy, improve your IT investments, and provide excellent customer service.
Performance Analytics: Gain Real-Time Visibility into IT Service Performance 
An essential part of efficient IT administration is performance analytics. Through real-time insight into the performance of your IT services, LMTEQ can assist you in monitoring and assessing the efficiency of your company. You can quickly identify and fix issues with our sophisticated performance analytics tools maximizing performance and effectiveness.
Project Portfolio Management: Accelerate Project Delivery and Reduce Risks
With enough coordination, managing several projects can be simple. You can make sure that IT projects are finished on schedule, within budget, and in accordance with company objectives by utilizing LMTEQ's Project Portfolio Management capabilities. To effectively complete your project goals while minimizing risks, our skilled team helps with resource allocation, project prioritization, and project monitoring.
Finance Management: Limit IT Costs and Boost Budget Allotments 
Effective financial management is crucial for reducing IT costs and spotting improvement possibilities. LMTEQ provides a complete financial framework that enables your company to grasp and manage your IT expenses, budget allotments, and financial predictions. Budget objectives can be created, actual spending can be tracked, and inconsistencies can be quickly analyzed to ensure financial resources are used as efficiently as possible.
Demand Management: Handle IT service demands on tips for business alignment
Complexity might arise while juggling the requests for IT services from many business groups. Your IT services will align with your business objectives thanks to LMTEQ's simplified process, which also makes it possible for you to prioritize needs properly and distribute resources. 
Agile Development: Accelerate the software development process 
Agile development is an iterative, team-focused approach to software development. With careful planning, effective resource management, and simple backlog management, LMTEQ's ServiceNow Agile Development features will speed up your agile software development processes. 
Innovation Management: Cultivate the spirit of innovation 
Customers are given a platform by LMTEQ to encourage innovation and promote ongoing development in their ITBM procedures. You can foster an innovative environment, encourage employee contribution of ideas, and bring about improvements that add value to your company using our innovation management tools.
Resource Management: Maximize allocation and utilization of resources 
LMTEQ provides strong resource management tools that enable you to improve resource allocation and consumption. You can effectively manage resources by managing resource pools, defining roles and responsibilities, tracking resource assignments, and keeping an eye on resource capacity and demand using our ServiceNow ITBM application.
Scaled Agile Framework (SAFe): Acquire end-to-end transparency
LMTEQ's SAFe capabilities enable customers to achieve end-to-end visibility and traceability of their agile initiatives, ensuring alignment with business objectives and driving continuous improvement.
Application Portfolio Management: evaluate, examine, and effectively manage applications
LMTEQ offers a thorough Application Portfolio Management (APM) module that enables you to evaluate, examine, and efficiently manage your application portfolios. You may learn more about your application with the help of our cutting-edge APM capabilities.
Scenario Planning: Efficiently analyze the scenario and possible effects
Customers can create and oversee scenario planning exercises using LMTEQ, which helps them to evaluate the possible effects of various scenarios on their ITBM activities. With our unique scenario planning features, customers can make educated decisions, improve their ITBM strategies, and preemptively deal with possible risks and issues.
Roadmap Planning: Create and visualize ITBM roadmaps
LMTEQ helps clients build strategic roadmaps by giving them a platform to work together to develop, imagine, and control their ITBM roadmaps. The roadmap planning features of LMTEQ support clients in tracking progress, assuring alignment with strategic goals, and successfully communicating their ITBM strategies to stakeholders.
Stay a step ahead by partnering with the leading IT Business Management platform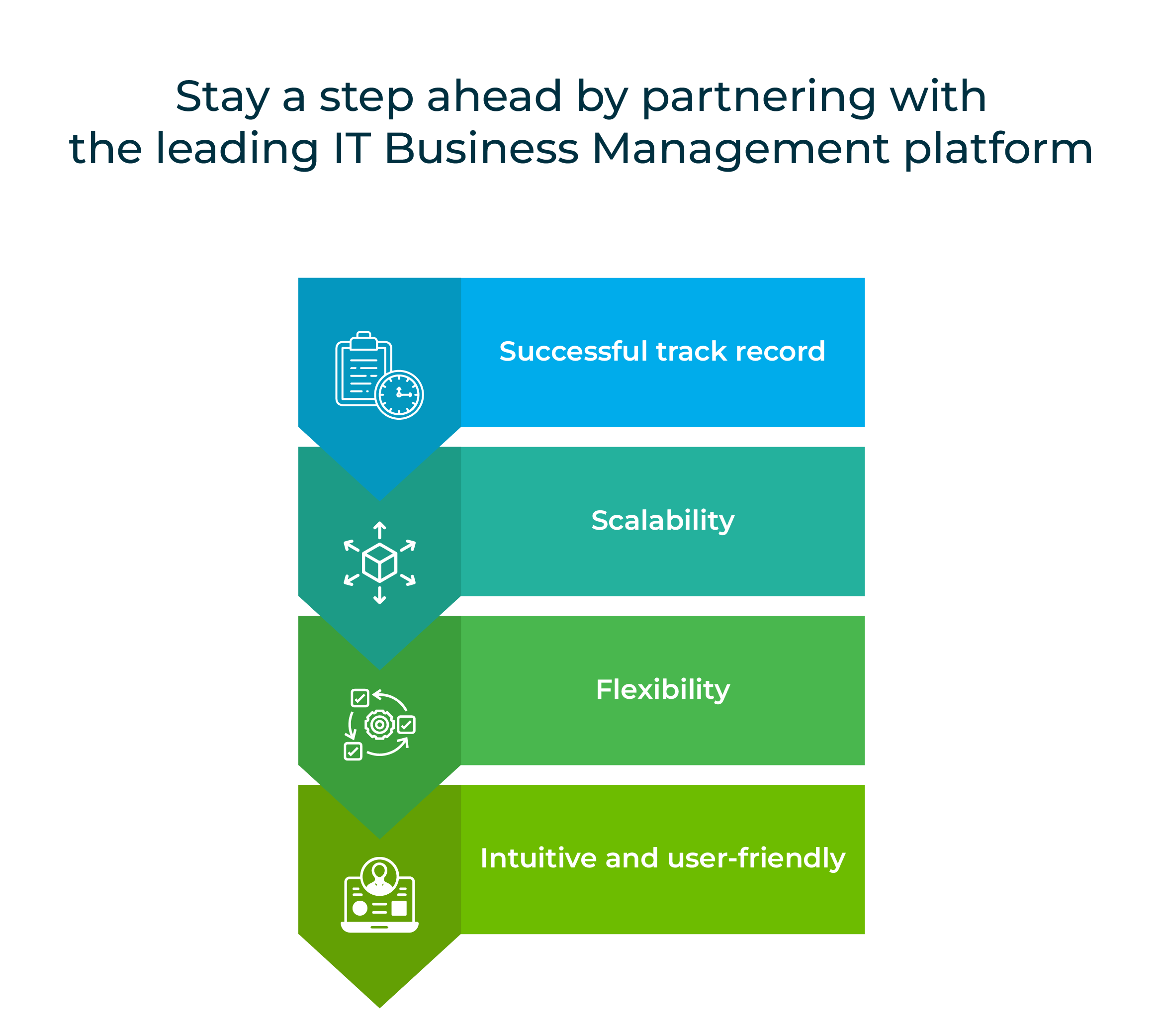 With a successful track record in ITBM, ServiceNow is one of the top platforms for IT Business Management. With LMTEQ, you can take advantage of ServiceNow ITBM's sophisticated capabilities and stay one step ahead of your competitors in this changing market. We offer you:
Successful track record:

 We offer a successful track record with thousands of happy clients worldwide.
Scalability:

We can smoothly expand to accommodate the requirements of any size organization, from microbusinesses to global conglomerates.

Flexibility:

 With extensive flexibility, we offer customized solutions to meet your unique business requirements.

Intuitive and user-friendly:

 With our user-friendly services and support, you can get started in a few steps.
Optimum IT Business Management is just a click away
Get ready to leap with LMTEQ. Request a demo now and understand how we utilize ServiceNow ITBM to achieve your business goals. We're dedicated to offering our customers the finest tools and services. 
Get started by contacting us right away!
Request a Callback
Would you like to reach our experts?
Just submit your contact details and we'll be in touch shortly.
You can also email us if you would prefer
[email protected]