Boost your commerce site's scale with Salesforce Commerce Cloud.
By offering a result-driven Salesforce Commerce Cloud solution deployment with businesses of all sizes and sectors, the correct feature set, and the necessary modifications, we put our decade of knowledge to operate for you.
Your end-to-end retail transformation will be more efficient thanks to our implementation accelerator, which also shortens the time it takes to market and offers a secure platform conversion process. 
We give you the tools you need to fully take advantage of the embedded analytics of Einstein as well as other Commerce Cloud technologies. Utilizing the strength of your current data, you may forecast user preferences, purchasing trends, and behavioral patterns, among other things.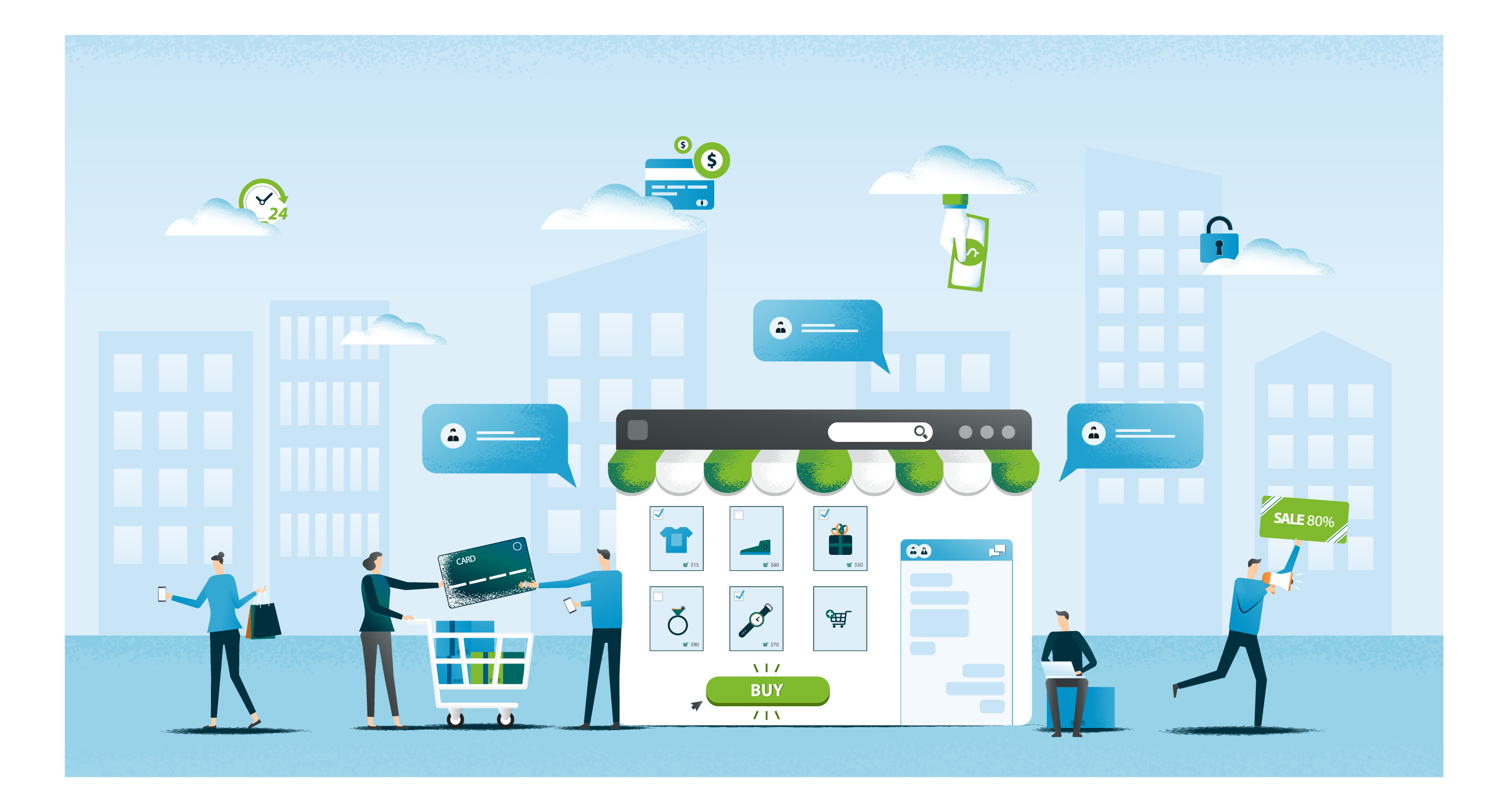 What does Cloud Commerce Salesforce bring into your business?
Incorporating the buying experience:
Salesforce commerce cloud development enables companies to connect with clients through many touchpoints. As a result, consumer interactions are less disrupted. The procedure is additionally streamlined and fluid to a greater extent, providing vendors with a single, 360-degree picture of all client activity, orders, and inventory.
Creating Custom User Experiences:
Salesforce Commerce cloud enables businesses to use artificial intelligence (AI) and other data science tools to develop individualized consumer experiences. Unexpectedly, Salesforce's eCommerce suite includes AI as well. It supports better inventory management and other business operations for merchants.
Customer data integration:
In order to further develop consumer profiles and preferences and, consequently, to make predictions about these prospects' potential future behavior, Cloud Commerce Salesforce can also make use of Einstein's capacities to pull in social and multimedia-based data.
Salesforce Commerce Cloud development platform enables organizations to expand quickly and reach new markets more quickly. Nobody could have ever dreamed that expanding a business could be as simple as tapping a button. From a single framework, sellers may simply manage various stores, further integrating the system with more streamlined and effective procedures.
Salesforce Cloud Commerce helps eCommerce companies provide cutting-edge digital experiences to their customers. Businesses can use the suite to experiment with fulfilment, learn new promotion strategies, and improve customer service and experience.
Stay Relevant With New Innovations at all times.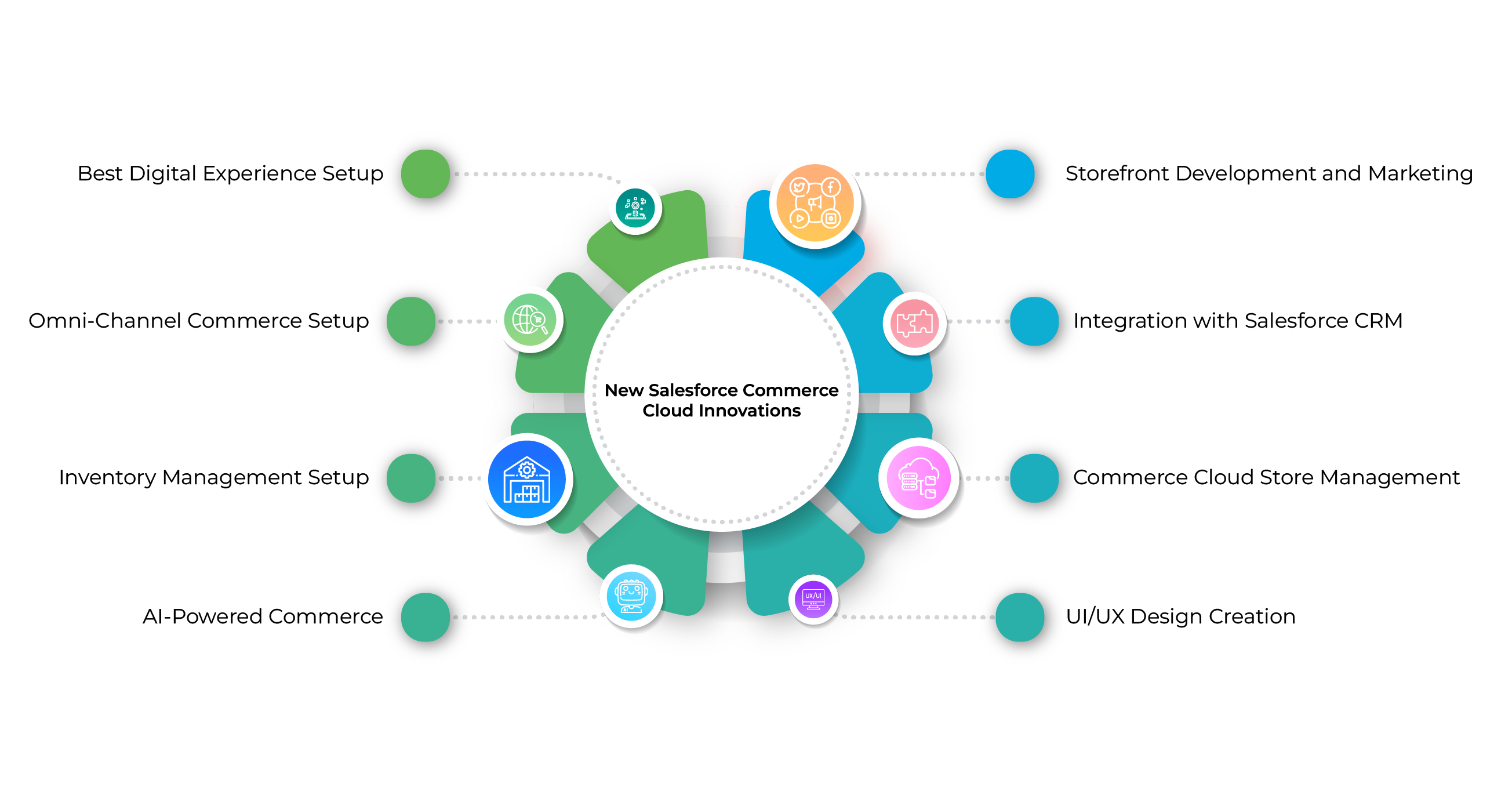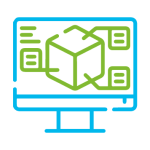 Custom Module Creation & Implementation
We go above and above to ensure the long-term success of our clients' enterprises. Our team of Salesforce Cloud Commerce experts can execute integration with even the most unusual third-party resources by creating specific, customized modules.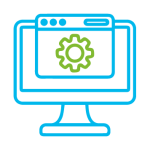 Comprehensive Testing 
Perform rigorous testing before deployment to ensure a smooth operation of your Cloud commerce Salesforce b2b or business-to-consumer platform. To ensure your e-commerce system is operating at peak efficiency, our team thoroughly tests each service's performance, automation, and functionality.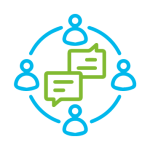 Rehosting Consulting
Our consulting services help your business carry out seamless Commerce Cloud Salesforce re-platforming by devising the most appropriate store infrastructure for your products. We do this by carefully considering your customer-base, external services, and all utilized processes.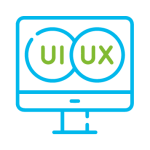 UI/UX Value Addition
LMTEQ aids clients in offering their customers unparalleled customer engagement and interaction by helping them refine user experiences. Our team of phenomenal UI/UX experts achieves this by helping them amplify their brand value to the maximum.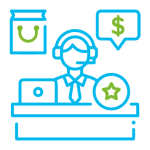 Support For Any Complex Ecommerce Platform 
No matter how complicated an e-commerce platform may be, LMTEQ provides thorough support for end-to-end operation integration. With great ease & efficiency, our team of Salesforce Integration experts can handle complex systems. We have the knowledge for all activities required, including log file analysis and software/logical error repair.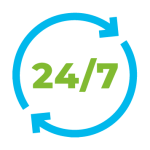 24 x 7 Support Worldwide
At LMTEQ, we don't end things at deployment! Our global support team is committed to ensuring that our clients are able to carry out their operations and deliver superior customer experiences, as intended.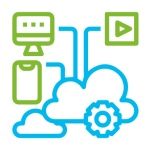 Multi-Platform Exposure
Through years of undertaking Cloud Commerce Salesforce deployment, execution and maintenance projects, LMTEQ has acquired the expertise and know-how necessary for all B2B, B2C, sectors. Our broad perspective makes it for us to cater to clients from even the most niche domains.
Why choose LMTEQ?
Application, customization, and data fixes
Our experienced team of SAP consultants develop fixes that are tailored to client-specific needs.
We help you set up specialized A/B testing capabilities well within the system to optimize merchandising.
Seamless Digital Experience
We may often enable you to develop a centralized platform that your organization can use to efficiently manage business activities.
According to your specifications, we would incorporate native features into your platforms, including support for multiple retailers, currencies, and languages.
Get a 24/7 x 365 days support team with a guaranteed swift response time for critical issues.
Improved Product & Resource Management
We simplify and ease the complex process of managing all of your items, inventories, and more so you can focus on your business's primary objectives.
Request a Call Back
Would you like to reach our experts?
Just submit your contact details and we'll be in touch shortly.
You can also email us if you would prefer
[email protected]