Experience ITOM in Action: Elevate, Automate, and Optimize Your IT Landscape
At LMTEQ, we understand that the success of your business relies on efficient IT operations. That's why our cutting-edge ServiceNow ITOM solution, is designed to elevate your organization's IT operations to new heights. Experience complete visibility, proactive incident management, and customizable insights – all with LMTEQ's ServiceNow ITOM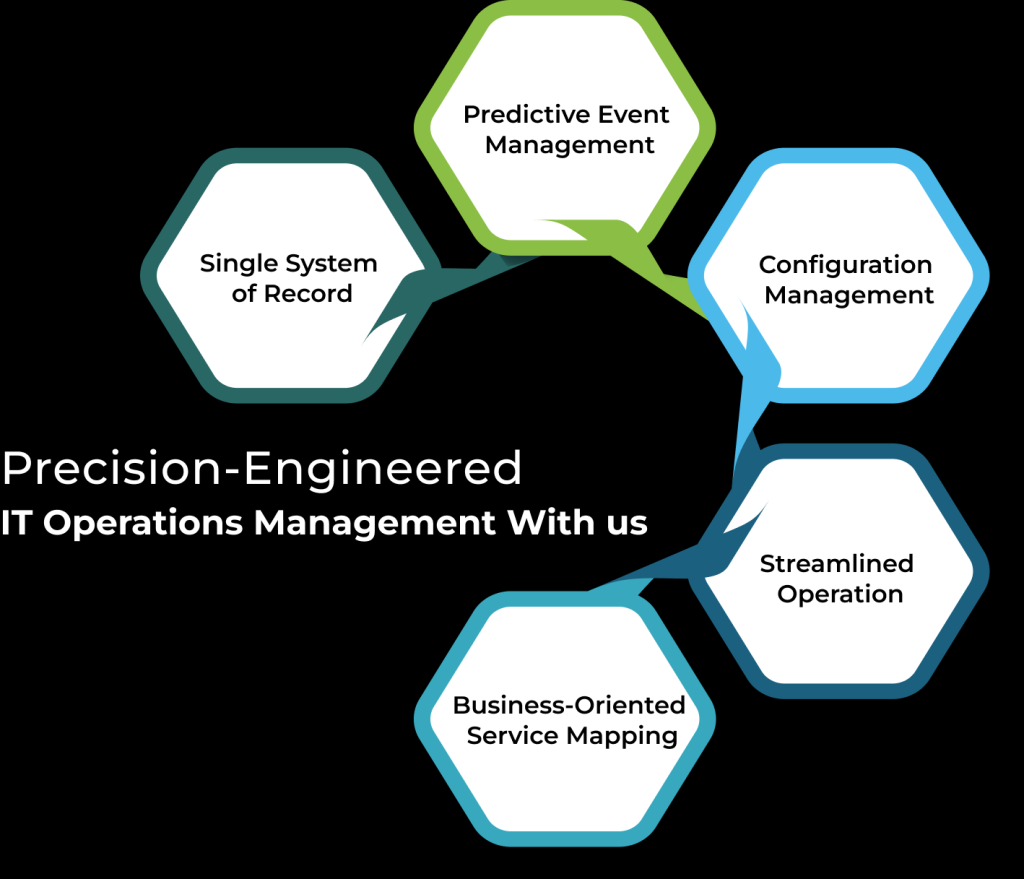 Single System of Record
: Get a unified view of your IT infrastructure, covering on-premises and cloud environments, creating a single source of truth.

Predictive Event Management
: Utilize predictive machine learning and tailored tool integration for uninterrupted service availability.

Configuration Management
: Our approach enhances your ServiceNow CMDB to serve as the definitive source for your entire IT setup.

Streamlined Operation
: Automate daily IT operations using built-in orchestrators and personalized scripts, optimizing efficiency and cutting costs.

Business-Oriented Service Mapping
: Gain insights into underlying infrastructure linked with services and applications through configured service dashboards, offering business service intelligence.
Explore Our ITOM Possibilities for Your Agile IT Landscape
Gain Strategic IT Surveillance through Our ITOM Attributes

Complete Visibility for Comprehensive Control 
Gain unparalleled insight into your infrastructure and services from a single, intuitive interface. LMTEQ's ServiceNow ITOM provides a unified view that empowers you to enhance quality, reduce risks, and optimize expenditures across your expansive IT environment.

Unlock the potential of cloud technology with confidence. Our ITOM solution equips you with an array of resources and tools, ensuring swift and effective cloud architecture implementation that aligns with your business goals.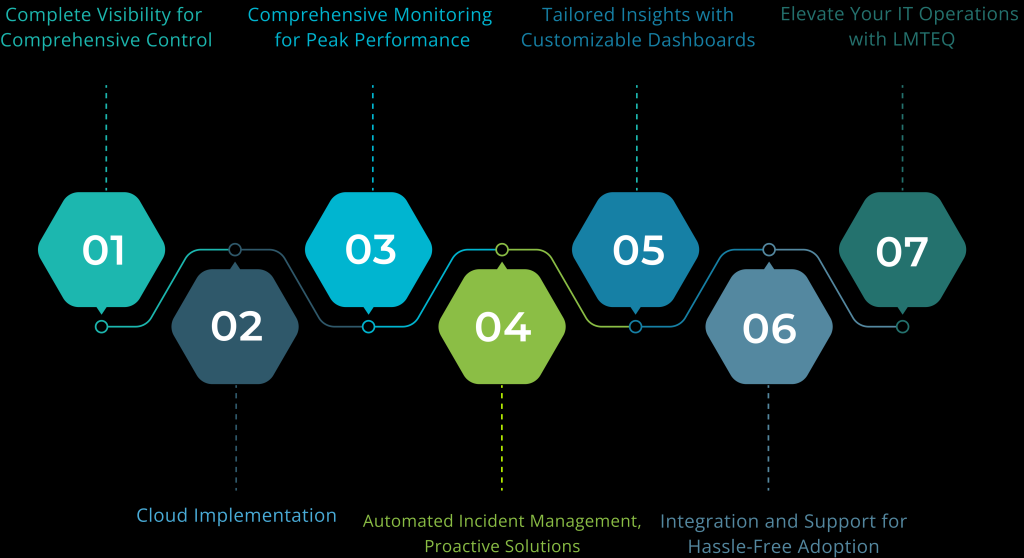 Comprehensive Monitoring for Peak Performance 
Your IT ecosystem is intricate, and every component matters. Our comprehensive monitoring tool oversees computers, networks, applications, databases, and more, guaranteeing that your operations remain seamless and disruptions are minimized

Automated Incident Management, Proactive Solutions 
Stay ahead of issues before they impact your operations. LMTEQ's IT operations management employs advanced machine learning algorithms to automatically identify and address incidents, enabling you to resolve problems before they escalate and predict future challenges.

Tailored Insights with Customizable Dashboards 
Make data-driven decisions with precision. Our customizable dashboards empower you to focus on the metrics that matter most to your organization, providing real-time visibility into the performance of your IT operations.

Integration and Support for Hassle-Free Adoption 
Your existing IT infrastructure matters. That's why our ITOM  in ServiceNow effortlessly integrates with leading tools and platforms, such as AWS, Azure, Docker, Kubernetes, and more. Our dedicated support team is ready to assist you, ensuring a smooth and productive experience.
Elevate Your IT Operations with LMTEQ 
Partner with us to transform your IT operations management. By entrusting the complexities of IT to our ServiceNow services, you can concentrate on your core business functions, confident that your IT environment is in expert hands.
Revolutionize your IT operations today.
Contact us to learn more and embark on a journey of enhanced efficiency and success.