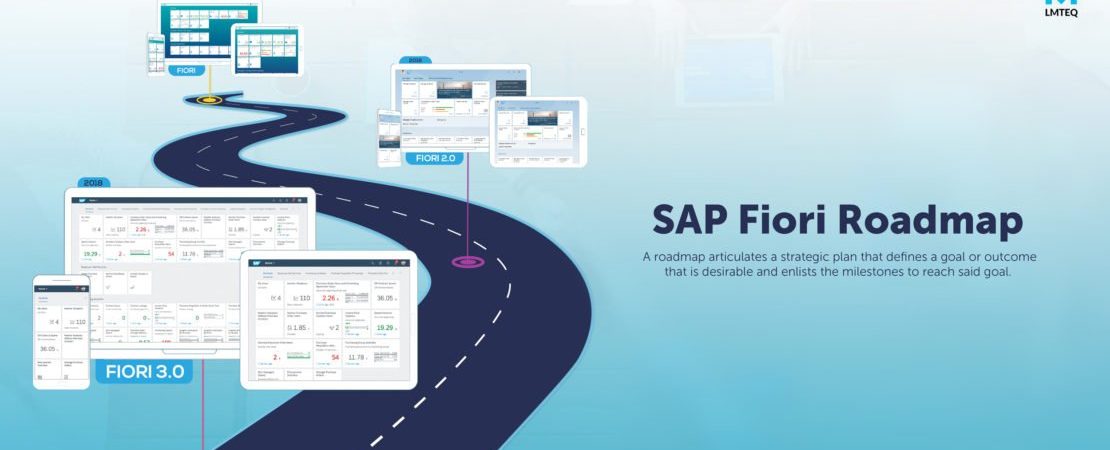 SAP Fiori provides a dynamic new user experience like never before for SAP software and applications by delivering a role-based and consumer-grade UX across all lines of business, task and devices, so to speak.
Since 2013, when it was officially launched, it has gone through a significant number of changes. This evolution of Fiori can be comprehended by looking at the SAP fiori roadmap which gives insights on all of its feature upgrades. In hindsight, saying that Fiori started a UX revolution not only for SAP but even other enterprise software players, would not be incorrect by any means.
What is SAP Fiori Roadmap?
A roadmap articulates a strategic plan that defines a goal or outcome that is desirable and enlists the milestones to reach said goal. It is also a common communication tool; a high-level document of sorts that helps in articulating strategic thinking behind both the goal and the plan for getting there.
The SAP Fiori roadmap is a description of how the product capabilities are intended to move forward. It provides information on recent innovations, motives and planned innovations along with a summary of the product's future.
SAP Fiori is a testament to SAP's motive of giving every user an interactive user experience that is specifically tailored to the needs of the user. SAP Fiori is a system designed to encompass all SAP products. It applies modern sensibilities and principles to enable users to complete work with the ease of user experience. It can be implemented through various UI technologies and platforms. It covers various designs and design principles, development tools like SAP Fiori and various technologies such as the SAP Fiori launchpad.
It started with the SAP Fiori 1.0 in 2013, with a small number of applications to perform multitudes of simple functions in some of the most widely SAP based scenarios such as purchase order tracking. Within a year, SAP announced a collection of applications which were simple to use and provided an intuitive user experience for often used SAP software functions on all major platforms including desktop, tablet and smartphone. The roadmap for the release proved to be well thought out in hindsight; this was testified by the number of applications growing to over 500 in two years of release which bolstered SAP's customer base like never before.
With the success of SAP Fiori, the SAP Fiori Roadmap had mapped out improvements to the platform. Fiori 2.0 aimed to sort out scenarios which proved to be complex ERP scenarios.
Along with this, other improvements that made the cut include a better use of space, improved pages and navigation mechanisms and a more flexible homepage. The digital assistant was also included as a part of it.
SAP Fiori Roadmap 2017
In 2017, the partnership between the two giants, Apple and SAP took off with the inception of the SAP Cloud Platform Software Development Kit for iOS. A SAP Asset Manager application and a SAP Project Companions Application for Managers and Consultants provided the kickstart to SAP Fiori Roadmap 2017.
The Fiori for iOS garnered a following among enthralled developers as it proved to be a unique blend of Fiori and iOS Human User Interface Guidelines. SAP Fiori encompasses a set of design guidelines that merges with the iOS Guidelines for Design. It was noted that the guidelines provided by Apple worked well with consumer-based applications but fell short when it came to enterprise applications owing to the fact that they deal with a high volume of complex data.
The SAP Asset manager played an integral role in 2017. In its most basic element, the SAP Asset Manager is an application that allows a user to manage work orders, notifications, condition monitoring, material consumption, time management and failure analysis. It also encourages the need of maintenance workers with great skill and disposition to manage enterprise assets with complex information and business logic.
The future had a number of prospects in the Roadmap of this product. More functionalities to the application were expected in line with the SAP Work Manager, incorporating features including Meter Management, Customer Service, Linear Asset Management and Inspection rounds and SAP MRS integration.
The integration of the application with the SAP Asset Intelligence and SAP Predictive Maintenance Services was also a focus and also the integration into the SAP ERP and S/4 HANA Cloud.
The SAP Project Companions Application for Managers and Consultants was another application that was a primary point of work for SAP in the SAP Fiori Roadmap 2017. In today's business economy, there's constant pressure to do more, faster and with less. This means a transformation in business processes to optimize project execution. The SAP Project Companions App for Managers and SAP Project Companion App for Consultants expedite teamwork by providing a clear overview of daily actions.
SAP Fiori Roadmap 2019
The SAP Fiori Roadmap 2019 promised updates to the SAP Fiori by releasing the new SAP Fiori 3.0 in versions. The first version with the first steps was released in 2019 and its new target design was promised to evolve the SAP Fiori design language for SAP products to fully support the Intelligent Suite.
SAP has always prioritised UX with Fiori and looked to expand on this foundation. SAP Fiori was promised to have Embedded Analytics options in order to assist people performing daily business tasks. It also promised various modifications to the User Actions menu to locate less frequently used apps. They also looked to expand on creating a new approach to activate and implement Fiori for SAP S/4 HANA.
It also aims to provide a non-disruptive environment for the users of Fiori 2.0 proving an effortless transition. In the SAP Fiori Roadmap 2019, Fiori 3.0 switched from the usual 'Belize' theme to a 'Quartz' theme. Apart from this, the Shell bar, structures, Building blocks, Floor plans for SAP Fiori apps and Use of the SAP Digital assistant is also said to evolve significantly.
The SAP Fiori Roadmap has been a constantly committed approach by SAP to improve experiences for users and provide undisruptive care to their customer base. This has been met with increased customer satisfaction and resulted in the proper evolution of the product as well.
Request a Callback
Would you like to reach to one of our
SAP & Salesforce Expert.
Just submit your contact details and we'll be in touch shortly.
You can also email us if you would prefer
[email protected]