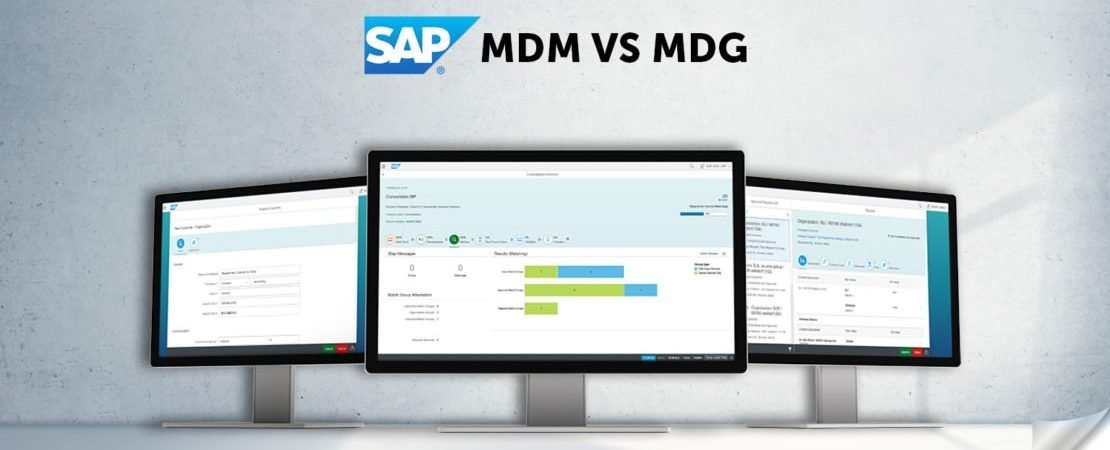 Master data is used across systems and applications. It is used to preserve the sanity of data in the organisation, reducing cost and for having a single source of truth across functions. Having a centralized master data will enable you to make the right decisions for your organisation and will ensure data transparency across functions. To govern all your master data and provide consistent, comprehensive and relevant data across all functions in your organisation, SAP introduced Master Data Management (MDM) and Master Data Governance (MDG tools).
Though MDM and MDG tools have the same aim in terms of governing your master data, they differ in the distribution of data. Before we dive into differentiating MDM and MDG let's see what they are and how they're used.
Master Data Management: SAP MDM system is used on specific platforms to verify the originality of the master data. The SAP MDM solution distributes the data into SAP and Non-SAP systems using a robust service-oriented architecture.
Master Data Governance: SAP MDG governs the data across your business. It firms the information foundation for big-data handling and operationalizes your data for business benefits specifically. The automated workflows in SAP MDG accelerate and stabilize the business and maintenance processes. In addition, it acts as a centralized repository for all the information.
Let's now see the difference between SAP Master Data Management and SAP Master Data Governance.
| SAP Master Data Management (MDM) | SAP Master Data Governance (MDG) |
| --- | --- |
| The master data is distributed directly to the ERP system using process integration (PI). | The addition or change of master data happens in MDG and is distributed to PI. |
| Master data changes are fetched from the MDM tool and updated in the ERP system. | In the MDG system, the data moves in a circuit. The data is sourced from the ERP and is adjusted and consolidated with MDG. |
| MDM offers robust data integration and distribution capabilities across SAP and non-SAP platforms. | MDG is an add-on component of SAP and it can share the same SAP-ERP server providing centralized data. It has limited integration capabilities with non-SAP systems. |
| MDM requires a third-party middleware system for interfacing with other systems. | MDG once integrated with SAP can send and receive data from any systems, like ERP, SRM and CRM tools. |
| MDM allows all master data objects to be stored whether or not they're coming from SAP environments. | MDG allows dynamic sync and storage of master data objects only in SAP and ERP models. |
| Benefits: 1. Augments rich data with context.2. Restructures, cleans and rationalizes your data as a part of the data import process on a scheduled basis. 3. Manages master data and related rich content in a central repository | Benefits: 1. Aids in business operations for handling big-data in hybrid locations- on-premise and on cloud.2. Protects, manages and ensures data changes are reported to the right function/person.3. Provides reliable data, reduces total cost of ownership and is a highly secure model. |
Request a Callback
Would you like to reach to one of our
SAP & Salesforce Expert.
Just submit your contact details and we'll be in touch shortly.
You can also email us if you would prefer
[email protected]