Companies are constantly seeking methods to enhance their operational procedures and boost productivity. Implementing new software, such as SAP S/4 HANA, is one approach to achieve this. Determining if a new software system would benefit your company is crucial before choosing to deploy it. An SAP S/4 HANA assessment can help with this.
An external consultant will evaluate your company's current business processes and systems as part of an SAP S/4HANA evaluation. They will then suggest how SAP S/4HANA may boost productivity and effectiveness.
Why do you need an SAP S/4HANA assessment?
It's crucial to first carry out a SAP S/4HANA assessment before installing this system. It helps the business in the:
Identifying potential enhancements that SAP S/4HANA deployment could bring about.
Putting up a thorough implementation strategy for SAP S/4HANA.
Gaining more knowledge of the expenses and resources needed to adopt SAP S/4HANA.
What are the benefits of SAP S/4 HANA Assessment?
You may decide whether your company is prepared to move to the new platform by doing a SAP S/4HANA evaluation. Additionally, it can assist you in determining which components of your company will gain the most from the move. The benefits of SAP S/4 HANA Assessment are:
Performance and scalability have been enhanced on the new platform. This might aid in improving your company's general performance.
The new platform provides more agility and flexibility. You will therefore be able to react to customer demands and shift market conditions more quickly.
The new platform provides better data analytics and reporting capabilities. This can aid in your decision-making for your company.
You can find places to cut costs by conducting an SAP S/4HANA evaluation. For instance, you can cut back on infrastructure expenses or license fees.
SAP S/4HANA assessment process: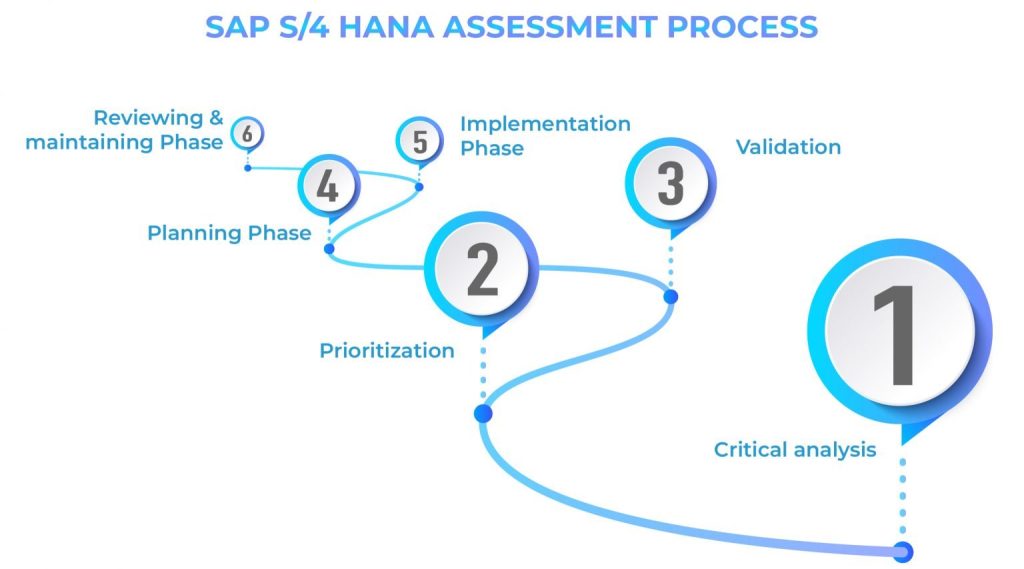 Firstly, Determine the weak points in your current SAP system by:
Determine what has to be altered or improved to improve your business's existing status.
Sort the needs in order of importance, technical risk, and financial impact.
Based on the critical analysis and identified prioritizing actions, create a strategy for achieving those objectives. The assessment procedure is divided into three phases:
Your SAP S/4HANA system's primary problems are located here. The chance to gather information and solicit input from essential stakeholders should be taken advantage of.
You develop a solution at this phase using new or used resources from Business Warehouse Management or other sources. On a simple production system, this solution has been tested.
Reviewing and maintaining Phase 
The solution must be maintained throughout time to ensure that it keeps working well and meeting client needs once it has been put into place.