Evolution of Sap and its different versions
Compare and Comprehensively understand the differences between SAP R/3, SAP ECC, SAP HANA, and SAP S/4HANA.
With so many organizations preparing to migrate to the latest version of SAP, knowing the differences and comparisons between various SAP products may help IT managers and SAP architects understand what to expect from the software and what the benefits of S/4HANA migration are. In this blog let us compare and contrast the fundamental differences and similarities between SAP R/3, SAP ECC, SAP HANA, and SAP S/4HANA.
SAP R/3, a client-server computing software was launched with a triple-layered architecture consisting of the database, the application server, and the client. 
SAP ECC was born as a result of the development of SAP's internet strategy with mysap.com. SAP's web-based approach helped redesign the concept of business processes. 
SAP created HANA – An in-memory database that combines transactional and analytical data. Businesses can now gain real-time insights from any data without disrupting operational processes.
SAP launched SAP S/4HANA cloud – an ERP system in the cloud that only runs on HANA. Reinvent business models with a digital core that empowers enterprises with real-time visibility into mission-critical business processes. 
SAP R/3 is one of SAP's primary products, with R denoting real-time and 3 denoting a three-tier application architecture (Database, Application Server, and Client). It was launched in July 1992. 
It is an enterprise-wide information system that brings together all of the resources, data, and activities required to accomplish business processes such as order fulfillment, billing, human resource management, and production planning. 
It was SAP's first major version since SAP R/2, which was popular with businesses in the 1980s. The fundamental distinction between R/3 and prior SAP versions is that R/3 is a client/server system, whereas previous SAP versions were mainframe systems.  It was compatible with a variety of platforms and operating systems like Microsoft Windows.
Various versions of this software were released during the 1990s before SAP's ECC was released in 2004. 
SAP ECC stands for SAP ERP Central Component. It's also known as SAP ERP. SAP ECC is SAP's legacy suite of enterprise applications. It was designed to operate on a third-party database such as Oracle and IBM DB2. 
ECC incorporates the key business functions of an organization. It is Cross-platform software (Cloud-based) that supports various computer languages like C, C++, ABAP/4 (etc) and is compatible with operating systems like Windows, macOS, Linux, and Unix.
SAP ECC set the groundwork for both on-premises and cloud-based S/4HANA. 
SAP HANA (High-performance ANalytic Appliance) is a relational database management system that runs in-memory and is column-oriented. HANA is a multi-model database that keeps data in memory rather than on a hard drive. This allows for far faster data processing than traditional disk-based data systems, allowing for advanced, real-time analytics. 
SAP HANA, essentially serves as a platform for ERP software and other business applications which can be installed on-premises, in the cloud, or in a hybrid cloud system.
The fundamental purpose of SAP HANA is to store and retrieve data as needed by applications. WIth HANA advanced analytics can be performed rapidly including ETL (extract, transform, load) capabilities.
The "S" in S/4Hana stands for "simple," while the "4" alludes to the SAP Business Suite's fourth iteration. S/4HANA is an ERP suite designed specifically to run on SAP HANA. Users can choose from a variety of deployment choices, including a cloud solution, an on-premise solution, or a hybrid of the two. 
SAP S/4HANA has fundamentally transformed ERP systems and is arguably the most significant upgrade since R/3 in 1992. Given the evolution of technology over time, the distinctions between SAP R/3 and SAP S/4HANA are significant. S/4HANA was designed to handle more complicated problems and manage considerably bigger volumes of data.
S/4HANA has been launched in numerous editions, with the most recent on-premise version (S/4HANA 2021) being released in October 2021.
Before deciding on migrating to the latest version of SAP, let us look at the differences between SAP ECC vs S4 HANA. It could help your organization to decide on what version of SAP is best suited for you.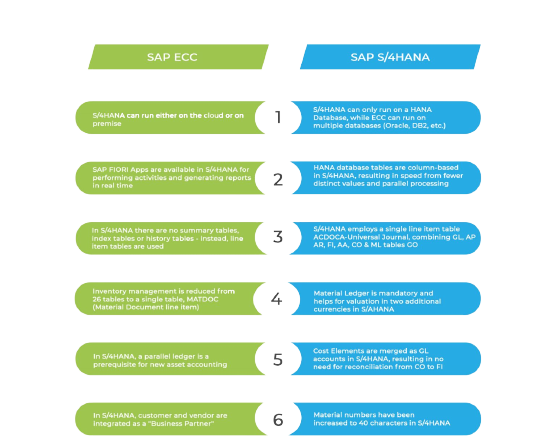 LMTEQ's SAP Enterprise support offers support services for all of the aforementioned versions, as well as assistance in migrating from an older to a newer version of SAP.