Augment Business Operations with ServiceNow Migration and Amplify Efficiency with Configuration Management Database Integration
Bolster ServiceNow's robust process automation features expedite your business operations. LMTEQ assists you in developing a unified user experience throughout your business infrastructure with ServiceNow platform integration. We focus on migrating seamlessly by automating key business processes, curtailing manual efforts, and improving operational efficiency.
Uncover the efficient strategies that meet your unique requirements, develop a customized implementation, and enable real-time visibility.
Ways to Rev up Business Processes Through ServiceNow Process Automation

Better efficacy: Simplify and enhance your processes and workflows by leveraging ServiceNow migration services. ServiceNow's advanced automation features reduce manual work and boost overall productivity.
Easier collaboration: Success in every modern business depends on collaboration. By dismantling silos and fostering a shared information system, ServiceNow facilitates easier collaboration between teams and departments.
Upgraded asset management: Gain more visibility and command over the assets in your business throughout their lifecycle with ServiceNow's extensive asset management features. Automate and centralize assets and processes to improve cost optimization and precise monitoring.
Cognitive reporting: Data-driven decision-making is made possible by ServiceNow's reporting features, which offer insightful data on your company's performance. Get real-time analytics and personalized reports that can be used to analyze important metrics, uncover trends, and promote continuous development.
Effective IT service management: Deliver excellent customer experiences with ServiceNow's powerful IT service management Accelerate incident management, service requests, and issue resolution by migrating to ServiceNow.
Flexible and scalable: ServiceNow has the adaptability to expand as your business grows, whether you're a start-up seeking to grow or a huge corporation managing complicated procedures.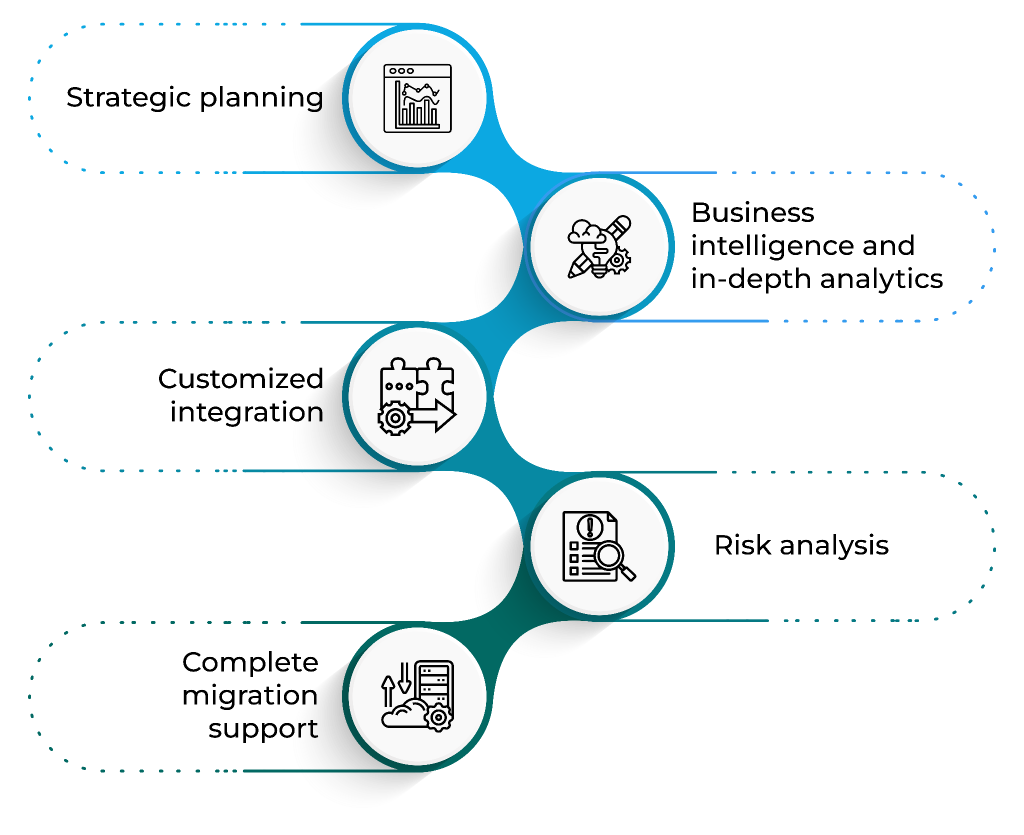 Lmteq's Proven Strategies to Simplify Data Migration:
Strategic planning: We are experts in strategic planning and roadmap creation because of our significant ServiceNow Migration expertise. We collaborate with you to comprehend the specific requirements and objectives. Based on that, we develop a customized migration strategy that supports your company's goals.
Business intelligence and in-depth analytics: LMTEQ understands the importance of making decisions based on facts. Get insightful information about your current operations with our ServiceNow experts' comprehensive analytics and business intelligence features.
Customized integration: ServiceNow can be effortlessly integrated with your current systems thanks to LMTEQ's expertise in bespoke integration solutions. We ensure ServiceNow integrates seamlessly with your ERP or other application to improve data flow, do away with silos, and streamline your operations.
Risk analysis: An in-depth knowledge of potential risks as well as challenges is necessary for an efficient migration. A thorough risk analysis procedure is a part of LMTEQ's ServiceNow Migration Services. We thoroughly examine your present systems, pinpoint hazards, and create mitigating plans.
Complete migration support: LMTEQ offers end-to-end migration assistance, covering every facet of the transition process. Our experienced team oversees every step of the migration process, including system configuration, testing, and data extraction and transformation. We make sure that the data is sent securely while preserving its integrity.
Processes for a Smooth Migration
Evaluation: We fully comprehend your needs and issues by assessing your current infrastructure, operations, and data. Using the results of this evaluation, we can create a custom migration plan that supports your company's objectives.
Planning: Based on the assessment, we develop a thorough migration strategy that describes the scope, timeframes, and resources needed for a successful move.
Data migration: When loading the data into the ServiceNow platform, our knowledgeable data migration professionals extract, convert, and load it using industry best practices. Our priority is data integrity, so we ensure your important data is still accurate, safe, and easily accessible in the updated environment.
Configuration: We set up ServiceNow modules, processes, forms, and user interfaces to provide maximum functioning and an effortless user experience. Our objective is to integrate ServiceNow with your procedures to maximize productivity.
Testing: We conduct thorough testing at every step of the process to find possible gaps or issues in the system. To guarantee a stable and dependable ServiceNow environment, we test the correctness of the data, the functionality of the system, and user approval.
Go-live: The go-live procedure is meticulously planned and carried out. Our team offers full assistance during the transition to ensure a seamless switch from the old system to ServiceNow.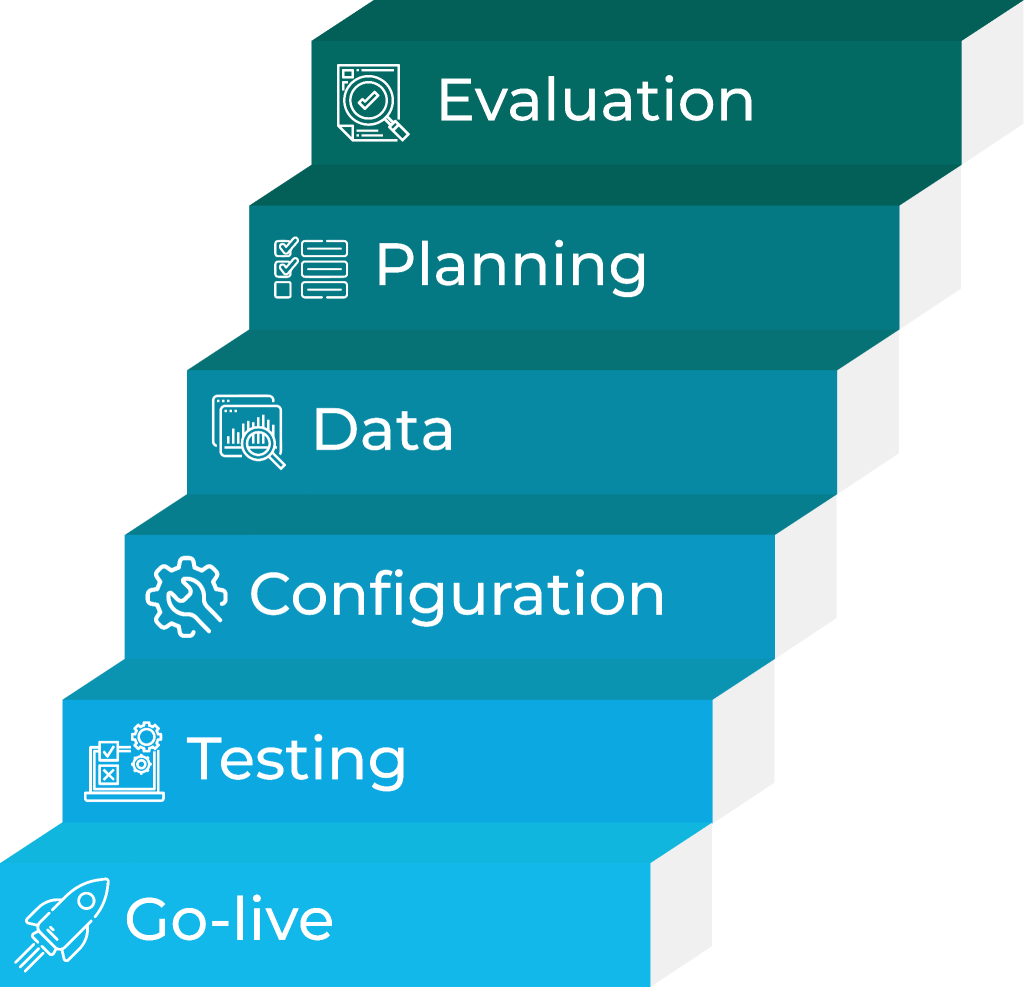 By choosing LMTEQ for your ServiceNow Migration Services, you can maximize the potential of this sophisticated platform. LMTEQ's trained ServiceNow specialists can help with data transfer, system integration, and continuing ServiceNow support.
Our proficiency in risk analysis, in-depth analytics, strategic planning, comprehensive migration assistance, custom integration, and end-to-end training enables your company to fully use ServiceNow's most significant features, resulting in higher effectiveness, productivity, and customer happiness.
Partner with us to start a successful ServiceNow migration journey. Contact LMTEQ for trouble-free ServiceNow migrations. Let us provide a plan for achieving industry benchmarks and assist you in identifying your existing situation.
Request a Callback
Would you like to reach our experts?
Just submit your contact details and we'll be in touch shortly.
You can also email us if you would prefer
[email protected]