Enhance Procurement Processes with ServiceNow's Sourcing Solutions
ServiceNow Sourcing and Procurement Operations emerge as a game-changer as firms work to optimize their processes and achieve maximum efficiency. Organizations can improve and optimize their procurement processes with the help of this complete suite of tools and solutions, saving time and money in the process.
ServiceNow Procurement Operations Management has wholly transformed business sourcing and procurement management. This robust platform delivers end-to-end solutions that promote efficiency and boost production, from contract administration to sourcing automation.
Agile Capabilities to Improve Compliance & Risk Management

Simplified procurement operations:Businesses can simplify their sourcing and procurement procedures with the help of ServiceNow procurement operations management, which boosts productivity and efficiency. ServiceNow sourcing and procurement operations reduce labor-intensive manual processes by automating procedures, including requisition preparation, contract management, and order tracking. As a result, procurement experts are better equipped to concentrate on strategic tasks like developing sourcing plans and negotiating advantageous contracts with suppliers.
Compliance management:Boost business compliance with rules on ethics, environmental sustainability, and procurement using ServiceNow sourcing. The software supports supplier relationship management, assures contract compliance, and detects and reduces risks, enabling organizations to uphold moral and legal standards.
Cost minimization:Businesses can efficiently manage expenses with ServiceNow spend management It allows better supplier negotiations, improves expenditure visibility, and discovers possibilities for cost-cutting. Additionally, ServiceNow ensures firms avoid costly errors like overpaying or paying suppliers late.
Better control and visibility:Businesses can now have greater control and visibility over their sourcing and procurement processes. They can monitor expenditures, see patterns, and make educated decisions about their procurement strategy with user-friendly dashboards, reports, and analytics.
Enhanced employee satisfaction:ServiceNow sourcing and procurement operations simplify purchase order management, boosting employee satisfaction. Employees can quickly search and compare goods and services from numerous providers using ServiceNow's consolidated shopping experience.
Adaptable Proficiencies to Maximize Efficiency in ServiceNow Sourcing & Procurement
LMTEQ automates and streamlines your procurement process with ServiceNow. We help you boost productivity, reduce costs, and improve outcomes with our sourcing and procurement operations expertise and ServiceNow's cutting-edge platform.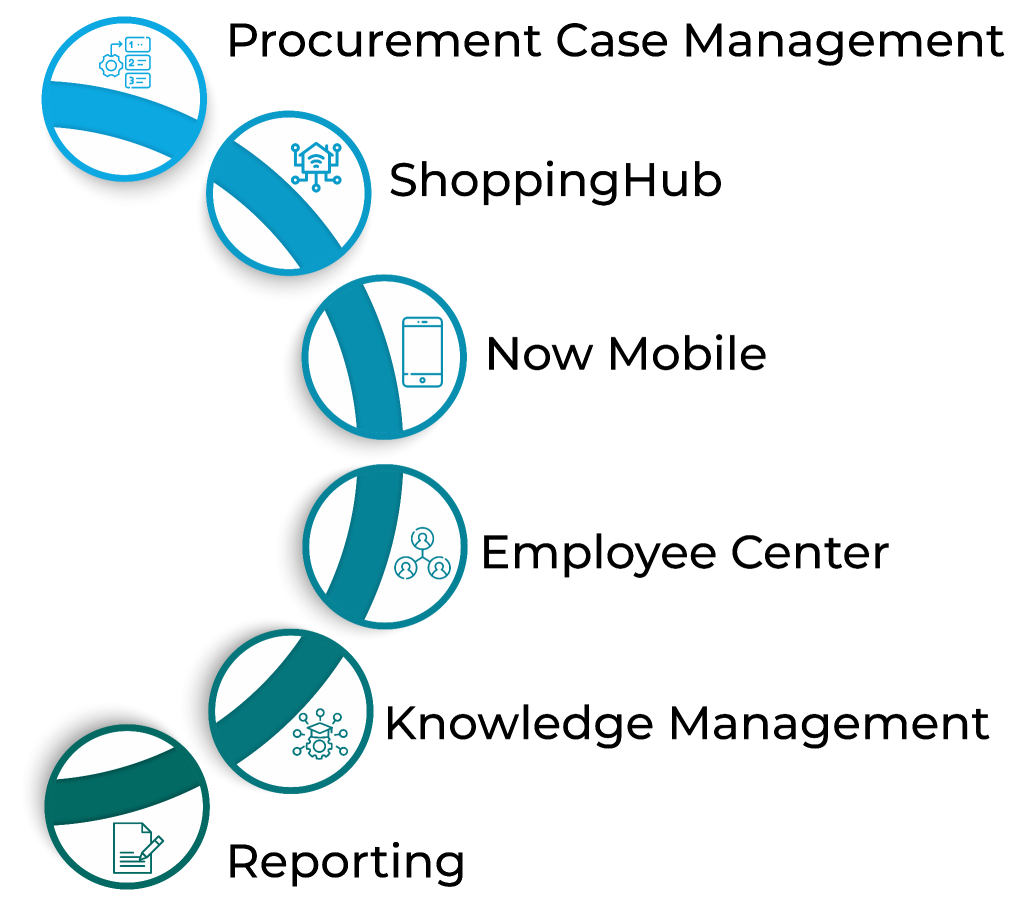 Procurement Case Management:LMTEQ makes managing and tracking procurement cases easy for your procurement team. We have a transparent and structured approach to case management from beginning to end. It's easy to track progress, collaborate with stakeholders, and resolve issues quickly, making it more efficient.
ShoppingHub:The ShoppingHub portal lets users search and buy products from approved suppliers inside your organization's catalog. LMTEQ utilizes the portal to automate and centralize your procurement workflow, reducing maverick spending, ensuring compliance, and accelerating the purchasing process.
Now Mobile:The Now mobile app allows you to provide on-the-go access to critical procurement tasks to your procurement team and stakeholders. We ensure that your team stays connected and productive no matter where they are by enabling them to approve purchase requests, monitor order statuses, and collaborate on procurement-related tasks.
Employee Center:LMTEQ employs ServiceNow's Employee Center to give your workers access to a self-service site to submit purchase requests, follow orders, and read pertinent guidelines. Cut administrative costs, improve worker satisfaction, and encourage adherence to procurement laws and regulations by giving employees the authority to handle their procurement requirements.
Knowledge Management:With the help of our trained professionals, embed ServiceNow's powerful knowledge management features to build and maintain a centralized database of best practices and information about procurement. Simple information sharing and dissemination within your company can help your team make knowledgeable decisions, find solutions to problems faster, and promote ongoing sourcing and procurement operations
Reporting:We are aware of the potential of powerful analytics. With ServiceNow's robust reporting capabilities, we assist you in gaining insightful information about your sourcing and procurement activities. It may provide customizable reports and dashboards for real-time visibility into essential indicators, including expenditure analysis, supplier performance, and contract compliance. To streamline your procurement procedures, discover patterns, look for cost-saving options, and make data-driven choices.
Our team of experts in ServiceNow Sourcing and Procurement solutions can help you maximize your procurement efficiency, optimize procurement operations, and improve business results. Contact us today to know how ServiceNow can improve your sourcing and procurement operations.
Request a Callback
Would you like to reach our experts?
Just submit your contact details and we'll be in touch shortly.
You can also email us if you would prefer
[email protected]