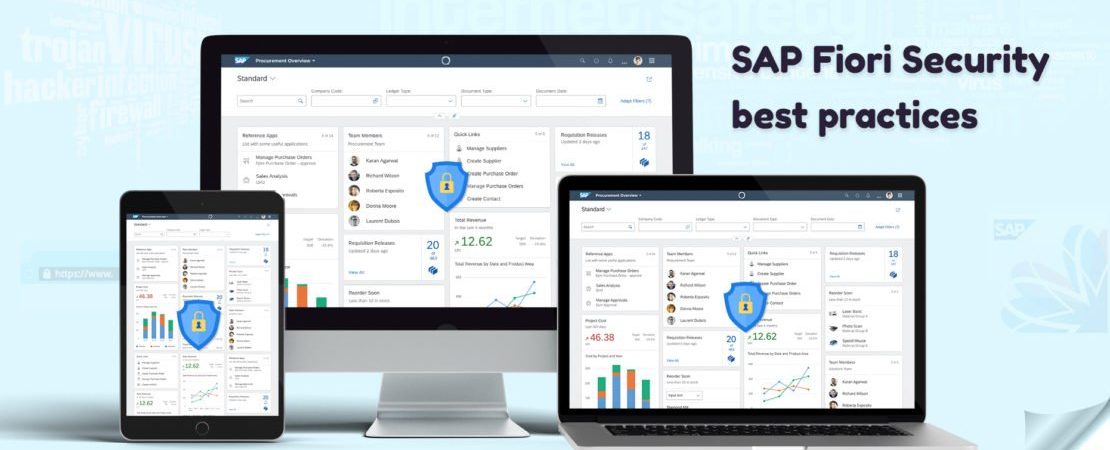 A brief
The industry is extending a warm welcome to SAP Fiori in the wake of a whole lot of positive feedback from the users of Fiori. Read our blog " What is SAP Fiori" to know more about it. Users are all praise of the intuitive designs, the ease of usage, SAP mobility and improved connectivity that comes with Fiori. However, Fiori's reach into the internet, mobile world and the backend architecture is exposing SAP systems to a number of new security risks. So, we need to be aware of addressing these threats through SAP Fiori security best practices.
SAP Fiori Security
In Fiori's architecture, it's the usage of service authorizations and the breadth of its deployment make Fiori vulnerable to a lot of cyberattacks. It helps to understand that this approach is not inherently insecure but needs to be addressed through SAP Fiori security best practices.
Talking of the entry point of attack in SAP would be irrelevant to today's cyber threat landscape. Attackers are increasingly using AI bots to hit networks for weak points. These bots get into the network, lodge themselves at certain places and stay still for a long time. They act when they are woken up by their "masters". They are capable of selling unauthorized access to the network to the "highest bidder". Subsequently, this bidder, once inside, can target or work on the SAP system, at leisure.
Hence, there is a pressing need for SAP Fiori Security best practices and procedures. Let us go through all the points.
SAP Fiori Security best practices.
Security basics for SAP
As part of this process, one needs to carefully monitor privileged users. Prevent password sharing and ensure that old user accounts do not exist.
Keeping an eye on connections
We can do this by avoiding unauthorized user access.
Manage access control
Knowing who is using the SAP system, why and when is very important in SAP Fiori Security
Keeping an inventory of surfaces that are susceptible to attack
A list of vulnerable areas is maintained. This includes devices that operate outside the firewall.
Installing a firewall for the SAP web dispatcher
This protects against attacks on the web dispatcher (Fiori connector). It also prevents direct connections to the SAP backend servers.
Setting hardening policies
This is to harden the SAP infrastructure with these strict policies.
Identify and analyze SAP security settings
Keep an eye on trust relationships between SAP and the broader enterprise. This gives an understanding and a hold of the same and goes a long way in ensuring SAP Fiori Security.
Encryption of Data and Connectivity
This is done so that the attackers do not understand the data and connectivity. This, in turn, makes it difficult for them to act.
Defining Security baselines for SAP
Continuous monitoring of compliance violations and acting on deviations is helpful.
Threat intelligence tools
Work with tools to stay up to date on the latest threats. As a result, we can understand how these threats affect the SAP system. This is an important part of maintaining SAP Fiori Security.
Monitoring SAP for suspicious user behavior
We should not forget to keep a close watch on both privileged and standard users
Conclusion
SAP Fiori does open doors for new security threats with its reach into the internet and mobile world. We can address and control these risks through SAP Fiori Security best practices.
We, at LMTEQ, will help you in setting up these best practices.